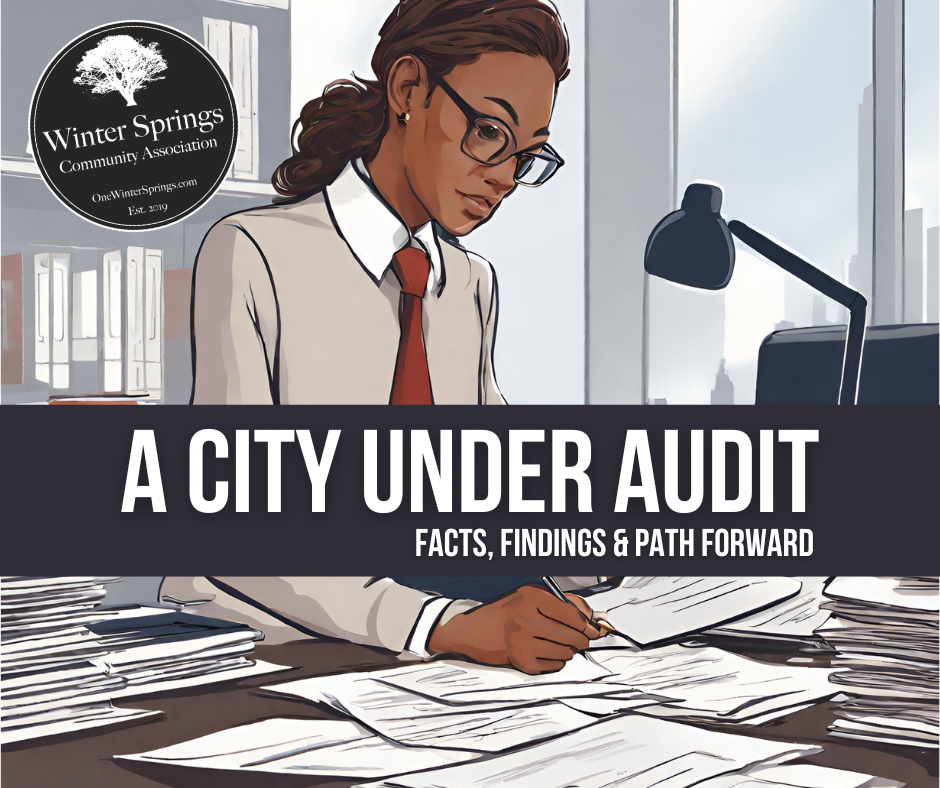 In Winter Springs, a small town nestled at the heart of Seminole County, Florida, a compelling narrative has been unfolding since 2019—a tale of a city grappling with a series of perplexing yet preventable challenges, and residents who have risen to the occasion, showcasing the resilience of a community deeply invested in its future. Welcome to our page, where we embark on the latest chapter in our ongoing pursuit of unity – One Heart, One Pulse, One Community, and One Winter Springs. In this chapter, we explore the pivotal moment when residents' concerns, having garnered the attention of the Florida Department of Environmental Protection and St. John's River Water Management District, received further validation through investigations launched by the Seminole County Inspector General and the Florida Auditor General. We also delve into the unwavering efforts of our community to assess the significance of these findings as we chart our path forward.
Florida Auditor General preliminary audit findings (9/20/2023) — The Florida Auditor General released preliminary findings as a results of its months-long investigation into the operation of the City of Winter Springs. This investigation was launched in January, 2023 by a unanimous vote of the Joint Legislative Auditing Committee (JLAC) of both chambers (House & Senate) of the Florida Legislature.
Seminole County Inspector General audit  — In the aftermath of Hurricane Ian, after it was discovered contractors were not available to perform necessary repairs on damaged bridges despite millions of Penny Sales Tax funds having been allocated to such maintenance for years prior, the Seminole County Clerk of Court and Comptroller directed the Inspector General to conduct an audit into the City of Winter Springs use of tax payer funds.
JLAC Request & Analysis (1/26/2023) — The staff of State Senator Jason Brodeur conducted analysis of concerns raised by residents and submitted to the JLAC for consideration, as part of a request for Florida's Auditor General to conduct an operational audit into the City of Winter Springs.