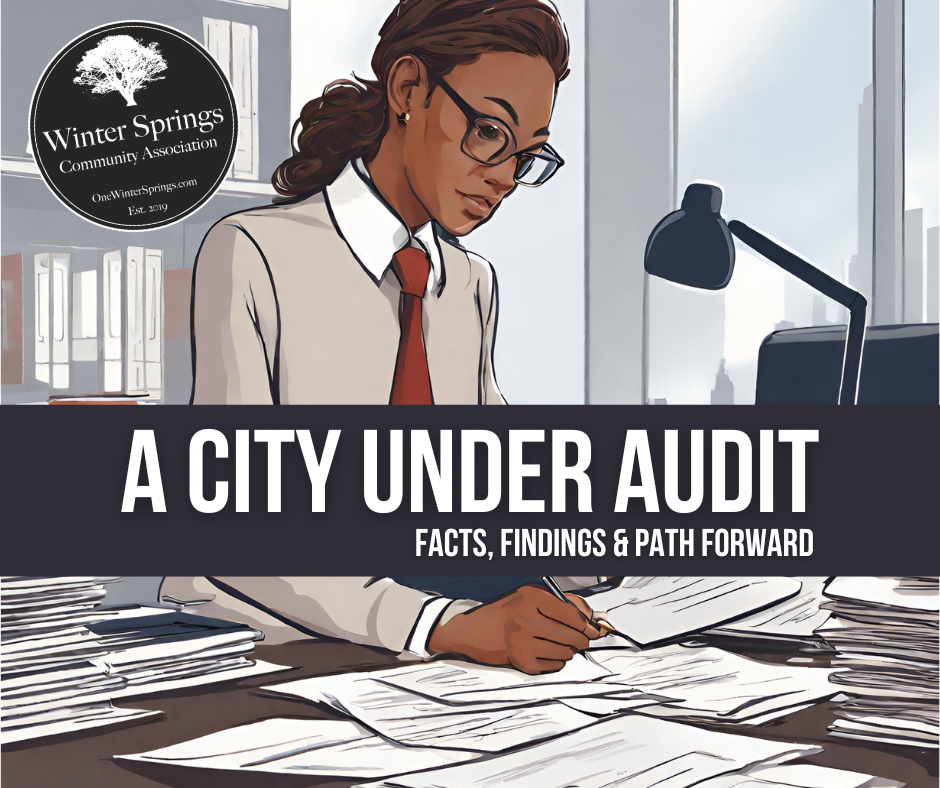 "Finding 3: The City's use of consent agendas to revise the project list provided to the public in advance of the voter referendum approving the local government infrastructure sales surtax reduced transparency by depriving the opportunity for public information and discussion. In addition, the City did not provide for separate accountability of transferred sales surtax moneys."
Hurricane Ian Aftermath
In the aftermath of Hurricane Ian, Winter Springs experienced failures of bridges, roadways and other critical infrastructure which led to increased property damage prolonged road closures. Local media outlets noticed the failures in Winter Springs far exceeded other nearby areas.
On November 23, the City informed residents the bridge repair could take up to 12-18 months to complete. When pressed to explain the delay, then City Manager Shawn Boyle pointed out the city did not have contractors lined up to begin the work. County officials and others found this curious because the city had taken millions in Penny Sales Tax funds to be used to maintain the very same bridges which had failed. If the bridge maintenance had been performed, the bridges may not have failed, and the City would have had regular access to contractors to begin this critical repair work.
According to emails obtained by the Winter Springs Community Association, Seminole County did step in and make its contractors and various procurement channels available to greatly expedite the bridge repairs on behalf of the City. Additionally, records requests were made and an audit was conducted by the Seminole County Clerk of Court to determine how the Penny Sales Tax funds had been spent.
Seminole County Clerk Audit
In accordance with the Inter-Local Agreement (ILA) forged between Seminole County and the seven county municipalities, the City of Winter Springs submitted a list of 40 proposed projects in various infrastructure categories, totaling $19 million in preliminary costs. These projects included road resurfacing, bridge replacement and repair, and roadway improvements, all essential for our city's well-being.
Notably, the interlocal agreement permits project list revisions only after approval following a noticed public meeting. Unfortunately, the audit reveals that significant revisions were approved through the City Commission's consent agenda, effectively circumventing public discussion and scrutiny. For instance, in July 2020, the City Commission redirected $10 million from designated projects to other endeavors, and in March 2023, $2.8 million was reallocated without robust public engagement.
Florida Auditor General Conclusion
In Finding 3, The state audit did two things:
Affirmed the County audit finding the city's handling of $10 million in Penny Sales tax eroded public trust
Found the city's accounting practices did not show a legal use of an additional $2 million in transferred funds
$10 Million: The state audit affirmed the findings of the county audit, namely that the city's decision to shift $10 million in revenue away from its original intent was against the clear will and intent of the voters in passing the referendum and an erosion of public trust. Namely, the city "reduced transparency by depriving the opportunity for public information and discussion."
$2 Million: The audit also found significant deficiencies in the city's accounting practices. The accounting records provided by the City to the Auditor were insufficient to show a $2 million transfer of Penny Sales Tax to an enterprise fund did not violate state law, stating that "City records do not demonstrate that the $2 million of transferred sales surtax moneys were used, or earmarked to be used, for…allowable sales surtax purposes."
Recommendation: To rebuild trust and transparency, the City must establish clear policies and procedures. Key steps include ensuring that significant financial impacts or projects of high public interest, like the infrastructure sales surtax, are presented as discussion items rather than consent agenda items, allowing for robust public and Commission discourse. Additionally, expenditures must align with public expectations to the extent practical, and accountability for sales surtax transfers to other city funds should be enhanced.
By following these recommendations, we can bolster trust in our city's decision-making processes and ensure that infrastructure sales surtax funds are invested in projects that align with the community's needs and expectations. Together, we build a more transparent and accountable Winter Springs. Stay tuned for more findings from the operational audit.