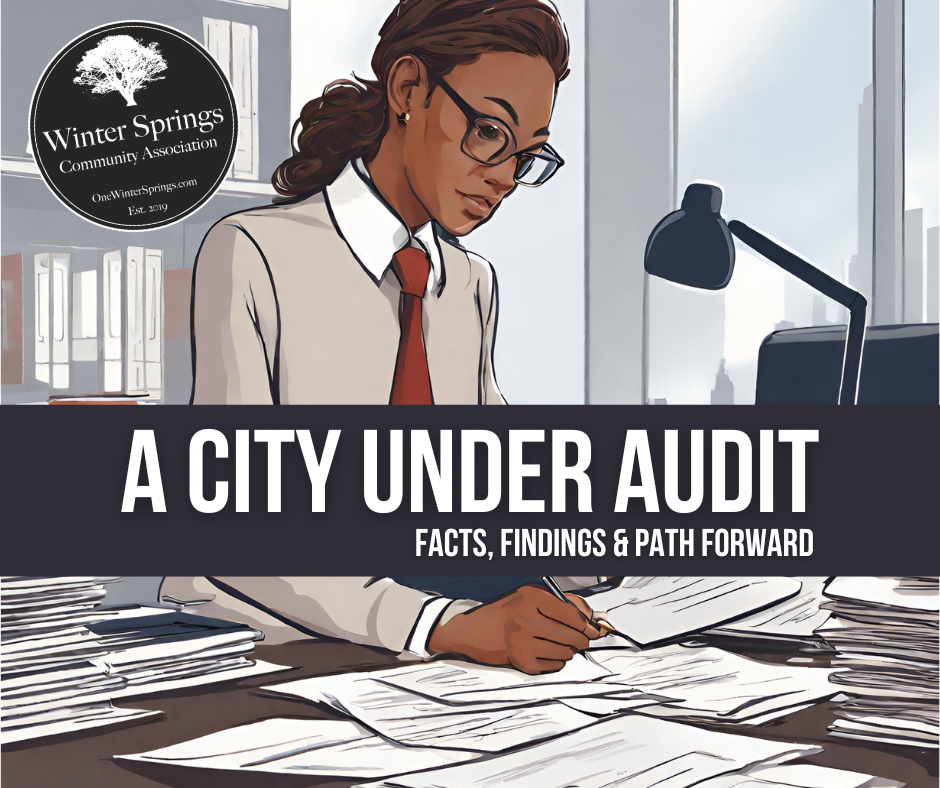 Audit Finding 1: "The City continues to incur fines and penalties for wastewater treatment violations."
Summary: The first finding of the operational audit of the City of Winter Springs (click to read) paints a stark picture, one that resonates with residents who have been raising concerns since 2019. These concerns, it appears, were repeatedly denied or underestimated by City officials, leading to a troubling state of affairs in the operation and maintenance of the city's wastewater reclamation facilities. These facilities, entrusted to a contractor since October 2019, are pivotal for treating sewage and preserving our environment.
Direct quotes from the audit tell the story vividly. The audit reveals that the City's contractor, responsible for daily operations and compliance with federal and state laws, has been facing alarming issues:
"A fish kill attributed to an unauthorized wastewater discharge."
"Unknown treatment flows that bypassed filtration and disinfection systems."
"Inoperable wastewater treatment systems."
These violations, as documented by the Florida Department of Environmental Protection (FDEP), were compounded by further issues at the East WRF:
"Incomplete wastewater treatment calibration procedures."
"Excessive bacteria levels in wastewater."
"Malfunctions in the wastewater air distribution system."
Despite these red flags, City Hall's response seemed inadequate until December 2021 when the City was subjected to a Consent Order correction action by FDEP. Even then, concerns persisted, with two additional warning letters from the FDEP in 2022 and 2023.
As of June 2023, the financial toll became evident: the City and the contractor had incurred $318,372 in total costs and civil penalties to address these issues, with the City's share being $68,100.
This finding not only underscores the urgency of addressing residents' concerns but also highlights the need for transparency and accountability. Only by heeding residents' voices and acting promptly can the City hope to regain community trust and ensure the proper functioning of these critical wastewater facilities.
Recommendation: The City must take immediate and resolute action, as outlined by the audit, to ensure the wastewater reclamation facilities operate in strict accordance with applicable FDEP rules. Embracing transparency and acknowledging past shortcomings is the path forward to a safer and more responsive Winter Springs.
Stay tuned for updates on the subsequent findings from the operational audit as we work towards a safer and more accountable Winter Springs.