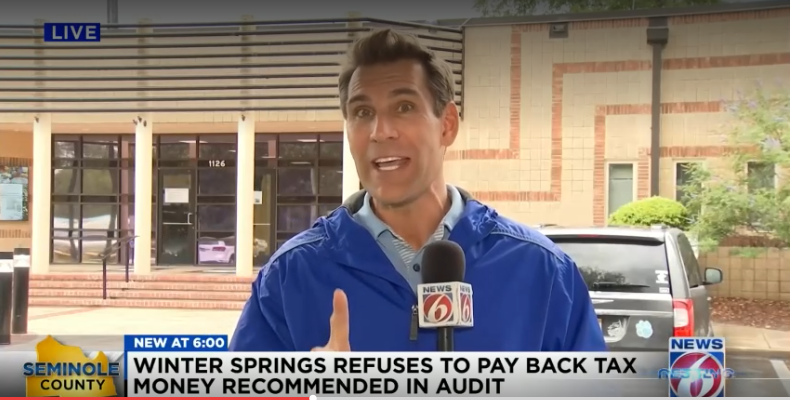 After experiencing critical infrastructure failures to our roads, water system and bridges during Hurricane Ian, county commissioner Jay Zembower requested an audit of the City of Winter Springs' use of Penny Sales Tax funds. Several failed bridges should have been maintained using these funds. The county's Inspector General audit found the City misspent the money.
EIGHT (8) AUDIT FINDINGS (excerpts from audit in "quotes")
1. Lack of transparency and accountability: "Public discussion or comment, should be solicited before the plan is amended". The City Manager pushed changes through using a "Consent Agenda" designed to avoid public scrutiny. The City Manager re-routed funds away from repairing bridges and roads as intended by the Penny Sales Tax fund without appropriate public hearings.
2. Violating agreement with other local governments: "The Inter-local agreement should require better communication between entities." Had Seminole County leadership been aware Winter Springs did not intend on using Penny Sales Tax dollars to properly maintain its roads and bridges, corrective actions could have been taken before Hurricane Ian.
3. Misappropriating tax payer funds: "Operational supplies were incorrectly included as Infrastructure". The Inter-local agreement established very specific requirements for how funds should be spent on approved projects (repairing bridges and roads, etc). City management spent taxpayer dollars on items other than infrastructure, neglecting to adequately maintain several bridges and roads which failed during Hurricane Ian.
4. Unauthorized amendments to project list: "Revisions to the project list should be submitted to various government partners for pre-approval prior to amendment." The Inspector General found the city management should have sought authorization prior to shifting tax dollars away from maintaining infrastructure (roads, bridges, etc).
5. Misappropriation of Sales Tax and Enterprise Funds: "Infrastructure Sales Tax Revenue should not be transferred to an Enterprise Fund". The audit found city management defrauded taxpayers by misallocating millions of dollars in Penny Sales Tax toward its water and sewer utility, and recommended "a repayment schedule should be established" to refund taxpayers.
6. Proper accountability was not in place: "Inter-local agreement needs added internal controls." In light of the problems found in Winter Springs, the Inspector General is recommending greater accountability for local governments' use of Penny Sales Tax funds, to ensure future storms do not cause unnecessary infrastructure damage and hardship.
7. Inadequate planning for use of surplus funds: "There needs to be a formal plan for allocation of surplus funds." The Inspector General found the citizen's money was not safeguarded and used in the best interest of the taxpayers and suggested policies be enacted to ensure excess proceeds provide residents with property tax relief.
8. Future audits should be scheduled: "Periodic internal audits of municipalities should be scheduled". The Inspector General is recommending regular internal audits of how Penny Sales Tax funds are spent to ensure the infrastructure failures in Winter Springs are not suffered by county residents elsewhere.
Note: The Mayor and some city commissioners (Benton, Johnson, Elliot) deny any wrongdoing and the audit includes the City of Winter Springs' attorney's written defense under the headings "Management Response."