By Jesse Phillips, President
Winter Springs Community Association
As a resident of Winter Springs, I was surprised to see the City of Winter Springs use taxpayer dollars to flood Facebook and Instagram feeds with posts celebrating the fact we were ranked the #4 safest city in the year 2021. Like any curious individual, I checked out the website they cited, and it took me to an expired domain. It was very close to a domain which did exist, so I figure the taxpayer-funded ad contained a typo.
Additionally, I discovered something interesting during this exercise:
Between the years 2021 and 2022, my City of Winter Springs fell twelve spots from #4 to #16 in the ranking of safest cities in Florida according to the safewise.com, which is the source the city referenced in its targeted social media ads.
The violent crime rate in the City of Winter Springs raised from 1.2 in 2021 to 1.7 so far in 2022. The property crime rate increased from 6.6 in 2021 to 7.5 so far in 2022 in the City of Winter Springs.
At first, I wondered if this may be a symptom of a larger regional problem. To test this theory, I examined the data on the neighboring City of Oviedo. What I found is Oviedo is trending in the opposite direction, with a violent crime rate that has dropped from 1.3 to 1.2 and a property crime rate which has dropped from 6.8 to 5.8 between 2021 and 2022.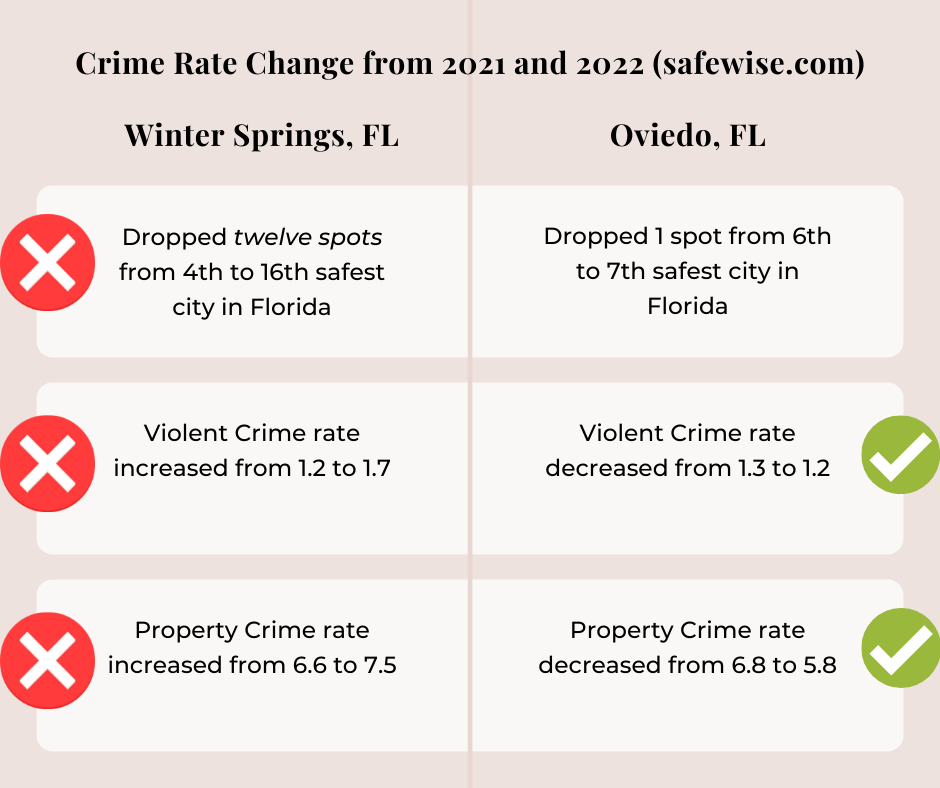 There are a lot of very smart people who have given significant thought to the underlying factors behind crime rates in urban and suburban areas. While politicians are quick to highlight socially explosive issues like protests, sanctuary cities and police funding, the issues are typically much less controversial. Studies (like this one, this one and this one) show a strong correlation between how a place looks and crime rate. The appearance of an area can invite or dissuade people from engaging in illegal behavior.
For example, shopping centers with large, barren parking lots, empty storefronts, poor lighting, and low foot traffic are much more inviting to crime than shopping centers at full capacity, with lots of foot traffic, greenspaces, good lighting, and lush tree covering.
It's no secret the City of Winter Springs has had trouble keeping its commercial space full. In recent commission meetings our city leaders have offered excuses on why we cannot bring the high-end dining options residents crave to justify the continued addition of apartments, carwashes and clearing acres of trees near Tuscawilla Road and SR 434 to bring in large parking lots for big-box supermarkets and potential public storage units. One of the unintended consequences has been an increased crime rate, a trend which will likely continue unless the current commission drastically changes course.
Our mayor and commissioners need to begin collaborating with the business community to fill existing commercial space, increase the green space, lighting, and tree canopies on these spaces, and facilitate increased foot traffic to our existing commercial spaces. Instead of apartments and public storage units, we need a vibrant dining and family-oriented entertainment district. A suburban facelift like this would address the underlying factor which has led to our increased crime rate and may lift the City of Winter Springs back up toward our former ranking as one of the top five safest cities in the Sunshine State.