Celebrate Liberty! Social Hour and Association Meeting
July 6 @ 7:00 pm

-

9:00 pm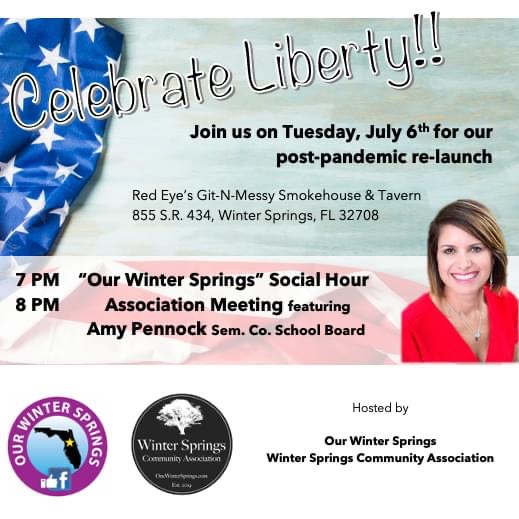 Winter Springs!
You are invited to "Celebrate Liberty" on July 6th at the Winter Springs Community Association post-pandemic re-launch! Join us at 7pm for a social hour hosted by "Our Winter Springs," a 4,500+ member Facebook community, at Red-Eye, one of our city's great, vibrant social environments. Learn more about our Association and hear an informative, timely presentation of community interest from our featured speaker at 8pm.
What to expect this upcoming school year…
Our featured speaker is Amy Pennock, who serves on the Seminole County School Board. She will be providing an update on the upcoming school year. Amy is a proven community leader with two Master's Degrees who has been recognized as one of our region's top women entrepreneurs. She has also been a vital voice for parents and students on the School Board.
ASSOCIATION INTEREST: Many of you have expressed interest in getting involved in our Association and working toward the benefit of our great city. This will be our first in-person meeting since the beginning of the pandemic. Come out and meet your neighbors who are looking to have a positive impact! We will discuss some specific ways we need you to get involved.